Director
August 15, 2016
I am beyond excited to be part of the Growing Green family as your Director. I feel truly lucky to be part of such an awesome center that provides loving and quality care for all children.  This is an amazing opportunity for me to be part of something special and I am honored to join this team.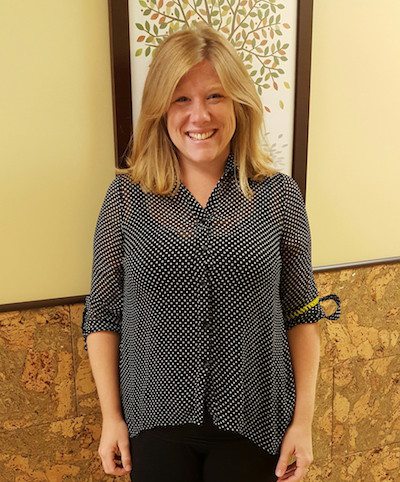 My professional experience in the Early Childhood Education field began in college.  I obtained a Bachelors Degree in Family and Consumer Sciences.  My concentration and specialization is in Family Services, which has been useful and valuable to me in this field.  Once completing coursework on childcare settings, childhood development, and finishing my childcare practicum, I knew I was passionate about working with children and families.  Over the course of the last 15+ years, I have been able to grow as a successful classroom teacher, program coordinator, and trainer at some fabulous schools (including here at Growing Green).  I worked for almost 10 years at Bright Horizons at Roosevelt University in Schaumburg, IL as Program Coordinator.  After moving to Kenosha, I started at Growing Green as their first teacher hired!  I loved being back in the classroom and the thoughtfulness put into the building.  After a couple years I began working at the Kenosha Public Museums as the Education Services Coordinator.  There, I helped develop their early/elementary education public programs and planned all group visits to the museums.  Recently, after teaching at St. Joseph's Catholic Academy, I realized then how much I love this field.  Working with families, teachers, and children is really my dream…and has led me to this point….full circle back to Growing Green.    
At home I have a house full of testosterone.  My husband, Rob, is my biggest cheerleader.  I have three boys; Joe, Sam, and Charlie.  Joe is a great student and sports fanatic, especially baseball.  Sam is an avid reader and is all about Pokémon.  Charlie loves animals and music (and is the feistiest one, with red hair to boot).  I can't imagine it any other way.  My house is full of action and excitement.  
It is important to me that everyone who steps through the doors of Growing Green is enthusiastic and excited to be here.  From the staff to students to parents, this attitude helps us rise to the standard of excellence expected.  It also ensures a positive, stimulating, and nurturing environment for our students.  Getting to know each family is valuable for me, as I know the direct correlation to student success.  Please stop by my office any time.  We are here for you!  Thank you for choosing Growing Green Child Development Center to be part of your child's life.
~Erin Mendoza~