Outdoor Play
We invite the environment into our learning program.  We know the importance of a high quality environment outdoors that allows children the opportunity to interact with the natural world in a variety of ways. This is evident by our outdoor Natural Play that offers children a more creative and environmental experience.  We have intentionally avoided the traditional "equipment playgrounds" found at most early childhood centers and schools.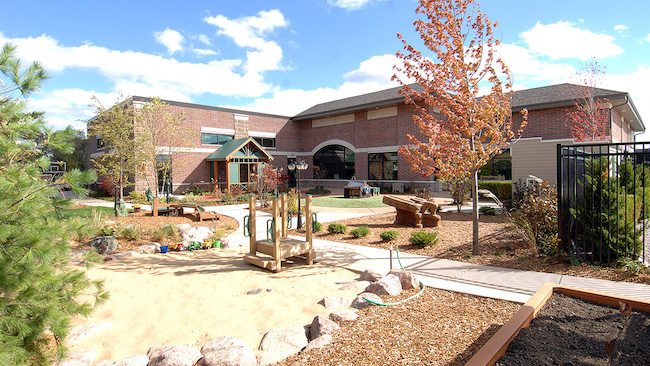 We have a very diverse offering of play opportunities.  Children love physical activity, exploring, role playing, and sensory experiences with water, sand, art, and music. Our outdoor Natural Play allows children of all ages to paint, discover archaeology with our dinosaur dig, work in the pretend shopping market, participate in gardening/composting, work in the greenhouse, play musical instruments, basketball, experience our waterfall and farm pump water features, rock climbing, ride their bike through the magical tunnel, or just hang out in a beautiful and healthy setting.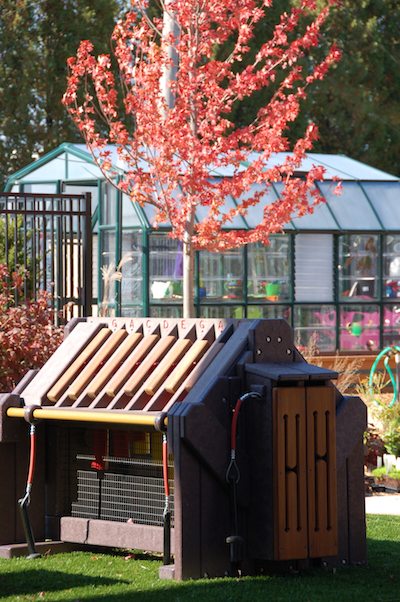 We have a garden-like and a beautifully landscaped setting. Our landscape has been chosen to be environmentally sustainable by using as many native plants as possible. All of our plant materials have been chosen because they are nontoxic and provide the rich sensory input that is lacking in most outdoor play spaces.  Children also love to play in the grass and bushes, and need shade when doing so because their skin is extremely sensitive to harmful ultra-violet rays.   We use trees for natural shading because children love to play around and under trees, and trees act as a natural protective barrier from the sun.
We believe our outdoor Natural Play offers both an educational and exciting experience for children.  It is a unique experience not typically found at other child care centers or schools.